If you asked me what experience I'd be most scared to try out of RedBalloon's action-packed offerings, I would put skydiving in my top 2 without even taking a moment to think. But life is all about challenging yourself and getting outside of your comfort zone, right? So when the opportunity came up to take the ultimate leap of faith with a tandem master and bring a friend along for the ride, I quickly accepted and told myself that I could freak out about it later!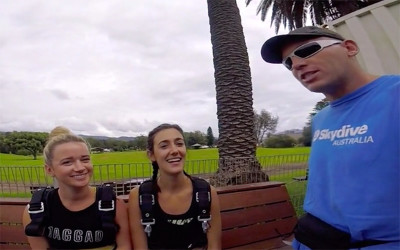 The adventure began bright and early, enjoying the scenic drive from Sydney to Wollongong via the spectacular Sea Cliff Bridge. Once here we checked in, got suited up, undertook training and a safety briefing and were each introduced to our tandem master who was leading our 15,000ft jump. The anticipation grew throughout this time as we watched other groups emerge from the sky and parachute back down to earth.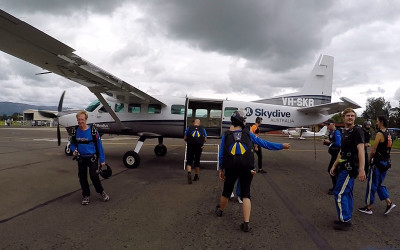 Shortly after, our group piled into the van and headed off to the airport. As we waited for the plane to arrive, our instructors went over more safety checks and handed over our flight goggles. Soon enough, we had assumed our positions in the aircraft and were taking off into the sky.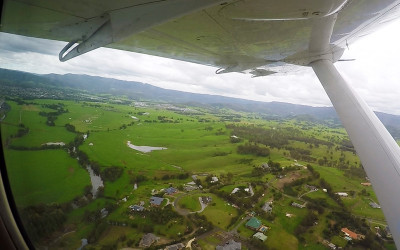 The flight is an experience in itself, showcasing breathtaking panoramas of lush green countryside and winding lakes to one side and a bustling town and long stretches of coastline to the other.
At this point I was feeling excited and slightly nervous, but also had this surprising sense of calmness. I credit this to my instructor who was super relaxed and revealed he'd completed over 30,000 jumps!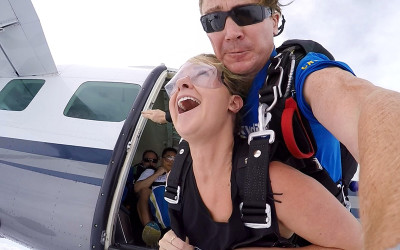 When the pilot announced we were close to reaching jump altitude, our instructors completed the final harnessing and safety checks before the door flung open. I was in position 5 and watched each pair sit on the ledge and jump out, shuffling closer and closer to the door each time. Soon enough it was my turn. As instructed, I put my head back and tucked my legs underneath the aircraft and he counted 3, 2, 1…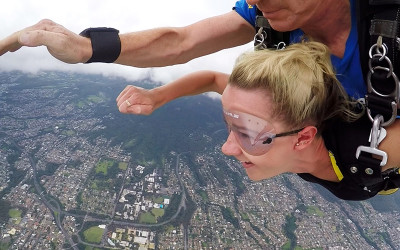 After that sudden drop, I was soon in position on my stomach experiencing the thrill and sensation of freefall. With a grin from ear to ear, it felt like I was floating on a force of air as we journeyed through some cloud and looked down at the earth below.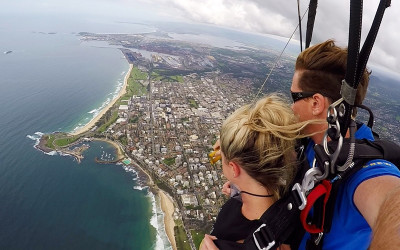 After 60 heart-pumping seconds, my instructor pulled the parachute cord and we enjoyed a relaxing change of pace. Revelling in the 360 degree views of Wollongong and beyond, I was also given the opportunity to have a turn steering the parachute.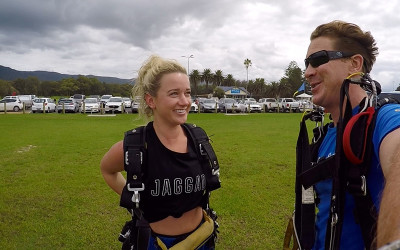 As we neared closer, I put my legs up for landing and we quickly touched down. An incredible feeling of accomplishment and adrenaline overwhelmed me and I shared a huge embrace with my friend. I had always thought that I'd try skydiving once just to tick it off and never look back, but I can honestly say that I can't wait to do it again – next time at an undiscovered holiday destination. I'm looking at you Whitsunday Islands!