At the beginning of self-isolation, I wrote myself a 'Covid Commitment' contract detailing everything I wanted to achieve with all of the extra spare time on my hands. At the top of my list next to daily exercise, eating well and reading more was learning to make pasta from scratch, having been something I'd wanted to do for years, stemming from my Italian heritage. When RedBalloon launched their incredible experiences at home range with a homemade pasta kit, I added it straight to my cart and excitedly waited to tick off this goal. Read all about my at-home pasta expedition and how the kit reviewed below.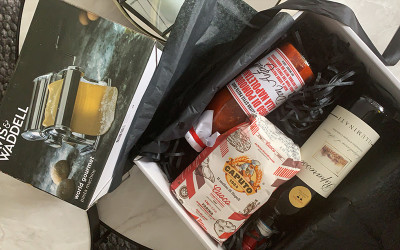 After a short wait, the kit arrived at my door beautifully presented in a gift box secured with a black ribbon. Accompanying the pasta machine was a box brimming with all of the essentials: 1kg of premium flour, traditional pasta sauce and an award-winning bottle of Italian wine. The next step was locking in a cooking night with my roommate.
In true Italian style, I prepared an antipasto platter to graze on whilst we prepared the pasta, poured us each a glass of wine and cranked up the Dean Martin tunes. Without a doubt, "That's Amore" was on constant repeat!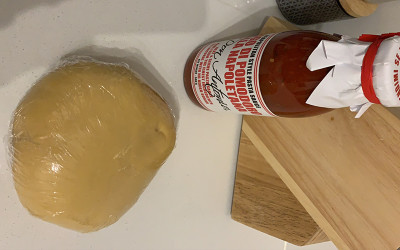 We had lots of fun chatting, singing and taking turns kneading the dough before wrapping it and letting it rest for 30 minutes.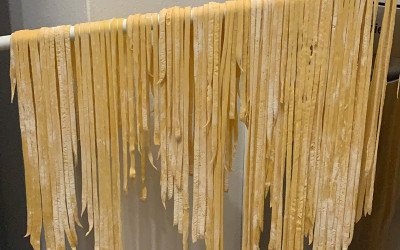 The hardest part of the process was definitely rolling out the pasta, starting on the thickest setting, hand-feeding it through and folding it before rolling it out once or twice more, and repeating the steps at each setting. Next, we ran the pasta sheets through the cutter on the linguini blade and hung them over a clean broom while we moved onto the sauce.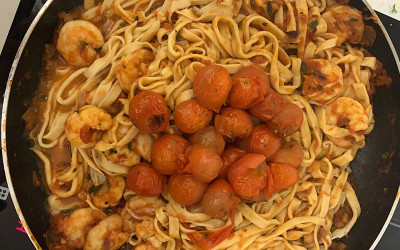 Using the traditional Don Antonis sauce, we added fresh garlic, herbs, prawns and roasted cherry tomatoes. After cooking the pasta al dente, we added our portions into the sauce and dished it up with fresh basil and parmesan cheese.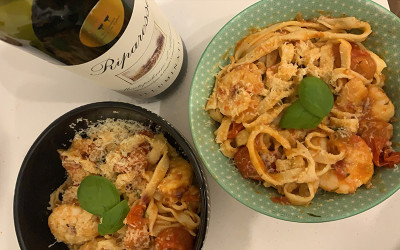 While the pasta could have been a little bit thinner, our taste buds thought was an excellent first attempt! The wine and sauce was delicious and the pasta machine was easy to use. We also had plenty leftover for another lunch and dinner. I would highly recommend this kit to anyone wanting to sharpen their culinary skills. And with flour being hard to find in the supermarket, it was convenient having all of the essential ingredients included in the package.