Sydney couple Mitchell Cox, 22, and Cleo Codrington, 23, are among the top travel Instagrammers in Australia, with more than 130,000 followers. We ask them to share their most romantic (and beautiful) spots for a Valentine's Day rendezvous.
What does a romantic holiday mean for us? Well, there's nothing like an empty beach or a private waterfall – seclusion is key. Being surrounded by untouched wilderness is even better. Add in a sunset and a couple of drinks and we're sure to be super-happy. Here are five of our favourites.
The Whitsundays, Queensland
The Whitsunday Islands are a tropical paradise. The seas are warm, calm and crystal clear; the beaches are deserted, with the whitest sand you'll ever see. The sun always seems to be out. There's nothing more romantic than sailing around this incredible group of islands with your love, spending the days soaking up the warmth and diving with a range of playful marine life. If your own island paradise is your idea of a romantic getaway, this has got to be the place.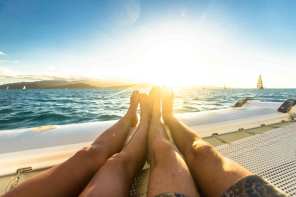 Uluru, Northern Territory
Central Australia's endless red desert might not leap to mind as an ideal place to spend romantic time together, but we assure you, when you first see the majestic sight of Uluru, you'll understand why. There's nothing quite like sitting back – together – with a glass of bubbles to watch Australia's cultural heart slowly change colour as the sun sets and the stars emerge from the darkness.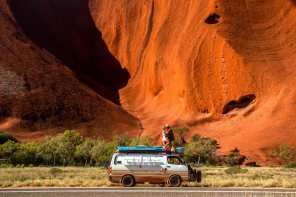 Barossa Valley, South Australia
Our style of romantic escape is usually towards the cheaper end of the spectrum but there's nothing wrong with splashing out on a special occasion. The Barossa is Australia's premier wine region for good reason. Spending the day driving around, tasting some of the area's best wine and cheese, all before coming home to your own cottage just seems too good to be true. Throw in a good bottle of port and a classic rom-com and you've got yourself a night the two of you will remember forever.
Kangaroo Island, South Australia
With its ridiculous variety of landscapes and activities, Kangaroo Island is the perfect spot to spend some time away with that special someone. It has world-class produce and wineries, pristine beaches and more wildlife than you could imagine. It's the perfect size to be able to explore all day, but still be home in time for a night-in together.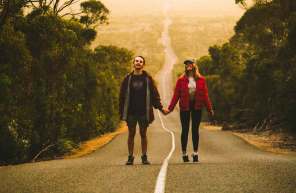 Wineglass Bay, Tasmania
What's better than spending the day on one of the top 10 beaches in the world? Well, we'd say pitching a tent right on the sand and spending the afternoon watching the sun slowly set over the water with just you and your partner. Wineglass Bay is a slice of paradise, surrounded by towering granite mountains and lush forest. Being able to (legally!) camp right on the beach makes this spot perfect for an adventurous yet relaxing getaway.