Tucked away in the alleyways of Collingwood you'll find the Break Room. The walls of the building are home to some impressive graffiti work. On the inside, you'll find a mini art gallery and two rooms where you can smash as much stuff up as your heart desires. Welcome to your new favourite form of therapy. Here's everything you need to know…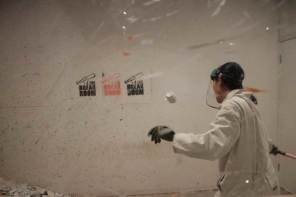 A break room is a small room where you can have permission to break all kinds of things. Before you enter, you pop on protective clothing and a helmet – enclosed shoes are a must! Once inside you can pump the music and unleash any pent-up anger and emotions. It's a great feeling, trust me, and one of the most liberating things you'll ever do.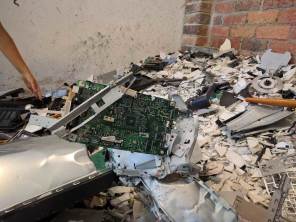 There is no right or wrong in the Break Room. It's a very safe space. You can throw things at a wall, you can hit them off a pole with baseball bat. You can simply bash them to smithereens on the ground. I recommend having a good smash of the pile of already broken bits and pieces in the corner.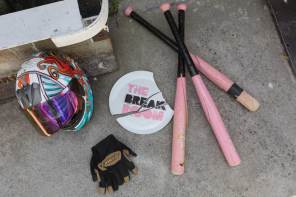 So where does all the stuff come from? According to Ed, who runs The Break Room, it's mostly bought from op shops around the area. Other stuff is donated or factory seconds. So, in each room you'll find a very odd assortment of glass and porcelain objects ripe for the smashing.
Why would you want to do this? Because for some reason having permission to break things, with absolutely no consequence is a deeply satisfying experience. I'll admit, at first, I felt a little trepidation. But a few more swings of that baseball bat and I'd transformed into a monster (in a good way – I think). Some people meditate, others do yoga or go for a run – but next time you're looking to let off a little steam we suggest you book a Break Room experience!