After a cruisy three-and-a-half-hour drive from the city we arrived at the campsite in the dark and almost tripped over a wombat on the way to our tent. Apparently, they like to scratch their backs against the tent ropes during the night. We certainly weren't in Sydney anymore!
The following morning, we awoke to paradise. Flash Camp is based in Coolendel camp ground situated on a sheltered bend of the Shoalhaven River. Phone reception drops out about 20 minutes before you reach the site, so while this place is seriously Instagram worthy, it's also the perfect place to spend some time away from your phone and get back to nature. And there's plenty of nature around. You can expect to see wombats, goannas and peacocks cruising through the camp ground.
Then there is the river. If you're planning to visit this slice of paradise packing your swimmers is a must! And bring some kind of floatation device if you can to scoot down the rapids (don't worry, they are very gentle).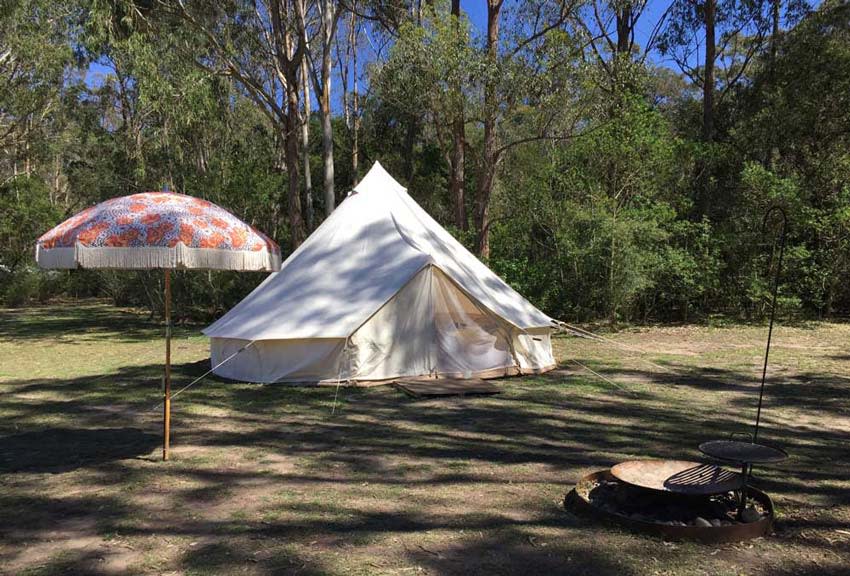 As far as activities, a dip in the river is at the top of the list. If you're feeling more adventurous you can always go for a canoe trip or bring good walking shoes to explore the river bank. Otherwise, pack your favourite board game and a good book and relax!
They've really thought of everything to make your stay as easy as possible. It's the perfect place for a weekend escape where all you need to bring is some clothes and food. (If you forget the essentials like chocolate and marshmallows you can pick these up from the general store). The kitchen is stocked with all the cooking utensils you need. You even have your own private campfire to cook on.
Basically, this is the perfect experience for those looking for maximum fun with minimal effort. If you're looking for a weekend adventure with a touch of luxury – glamping is the way to go!