If the last few months have left you desperately craving fresh air, wide open spaces and country charm, you'll find a long weekend sojourn in Mudgee to be the antidote to your isolation blues. A pleasant 3.5-hour drive from Sydney is this small town of rural New South Wales that boasts world-class wineries, paddock-to-plate dining and beautiful heritage buildings that reflect its rich colonial history. And to help you experience the very best of the region during your stay, we tried and tested the ultimate 3-day itinerary that is the perfect balance of chill and thrill.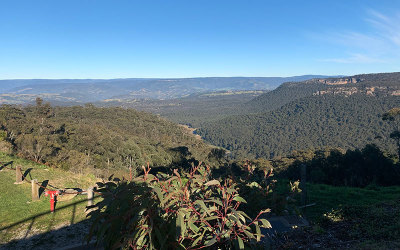 Friday morning:
Set your alarm clock for a bright and early start and depart Sydney around 6.30am – after a mandatory cup of coffee. If you need to take a break and stretch your legs along the way, we suggest stopping at the Hydro Majestic in the Blue Mountains to soak in the stunning views of the Megalong Valley. Here you'll find plenty of on-street parking and a lovely lookout point to the left of the venue where you can snap a quick photo or 2 before continuing on your way.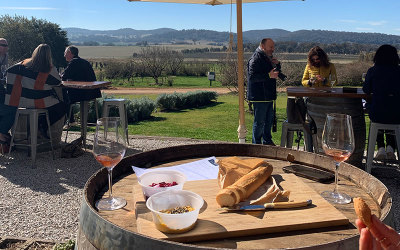 There really is no better way to kick off your Mudgee getaway than with a wine tasting on your way in (always drink responsibly and according to the law). We booked into the picturesque Lowe Family Wines, a certified organic and biodynamic vineyard, winery and farm, for a guided tasting and build-your-own local produce platter. Seated in the sunshine beside their charming cellar door and overlooking the vines and the Tinja farmlands, it really set the scene for the trip ahead.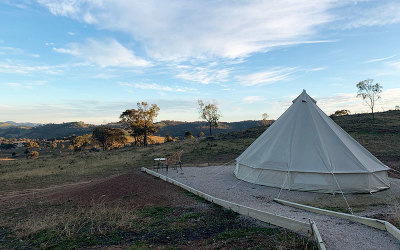 Friday afternoon: 
From here, we enjoyed the scenic drive to our glamping accommodation at Glenayr Farm, bookable via RedBalloon. Nestled on a 320-acre sheep property, this off-grid accommodation offers blissful seclusion with uninterrupted views of the stunning Australian landscape that surrounds. After checking into our stylish bell tent decked out with all of the creature comforts including a plush queen bed, linen, lanterns and an outdoor setting, we freshened up for a helicopter flight over the region.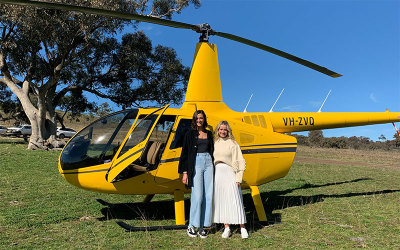 Mark from Capertree Valley Helicopters touched down on the property and whisked us away for a spectacular scenic flight over Mudgee. Over 20 minutes, we witnessed the region's splendour from this unique vantage point and were able to see Lithgow, Orange and Capertree Valley in the distance. Mark was very informative in pointing out the surrounding districts and various land formations throughout the journey.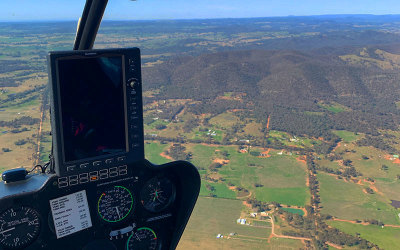 Highlights of the tour included breathtaking vistas of rolling, rugged hills, local vineyards and Glenayr Farm from above. This captivating flight came to an end at Robert Stein Wines where we landed for a 5-course degustation lunch at their award-winning fine diner, Pipeclay Pumphouse.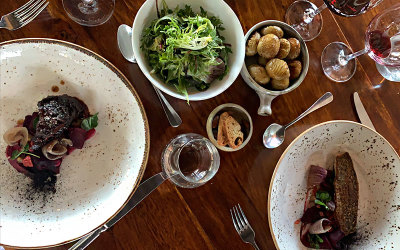 The restaurant offers an unparalleled personalised dining experience, where dietary requirements are carefully catered for and degustation menus are created on an individual basis when necessary. Matching wines can also be ordered per individual with the choice of Robert Stein or a mix of local Mudgee wines. Duck with pumpkin and garden brassicas, red wine braised beef cheek with beetroot and onion, and Spencer Cocoa dark chocolate delice with salted caramel and hazelnut were just some of the tantalising dishes that graced our table. All produce is home grown or locally sourced, paying homage to the land and farmers.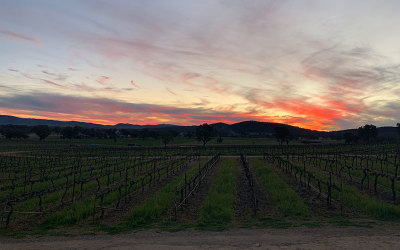 Friday evening: 
After your long lingering lunch, we suggest getting a taxi into town for a few sundown drinks before heading back to the farm to cosy up around the fire. Popular options include Roth's Wine Bar, Eltons or one of the local pubs. But be sure to make a booking prior due to reduced capacity restrictions.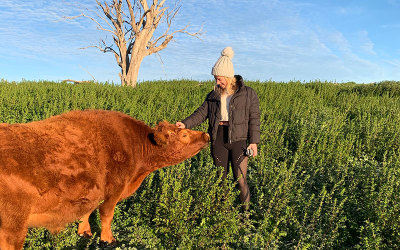 Saturday morning: 
After a restful nights' sleep, you'll want to wake up early to catch the sunrise at the farm. We were lucky enough to witness the full moon set at the same time as the sun peeked over the horizon, washing the sky in hues of purple, pink, orange and yellow. After breakfast, we changed into our activewear and set off for stroll around the property. A hiking trail map is provided which outlines the best view points and where you can find neighbouring goats and wild kangaroos hopping about. Don't forget to stop and pat the adorable resident Cows, George and Lawson – if they didn't already greet your car on the drive in!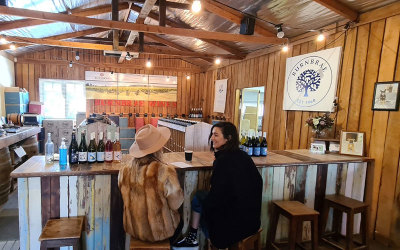 A trip to Mudgee isn't complete without a wine tour and we highly recommend our full day winery tour with cheese tasting. Our tour was perfectly customised to our wine, spirit and produce preferences and included stops at 5 wineries, a distillery and an artisan cheese and honey producer. Maritza had incredible knowledge about Mudgee's grape growing conditions and the various processes adopted by local winemakers, and we were lucky enough to meet some of them of along the way.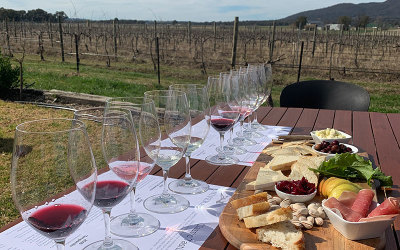 A highlight of the tour was lunch at Vinifera where we enjoyed a self-guided wine flight, paired with a share platter that was brimming with local seasonal produce. The organic winery uses sheep for weed control between mid-autumn to mid-spring and it was really special watching them graze through the paddock while we sat back and did the same.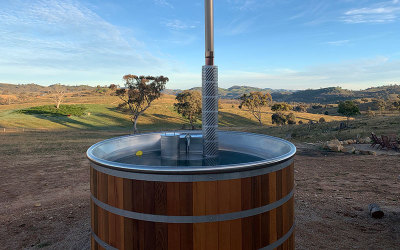 Saturday afternoon and evening: 
Upon return, settle in for an afternoon of relaxation and perhaps some reading by your tent. In the evening, we suggest making the most of Glenayr Farm's amazing facilities. Soak in the spa as the sun sets, challenge your loved one to a game of pool or toast some marshmallows by the fire as you admire the dazzling night sky. The farm has a well-equipped communal kitchen where you can cook dinner, as well as an outdoor BBQ if that's more your up your alley.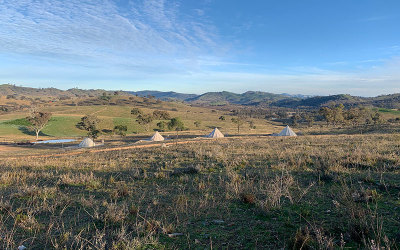 Sunday morning: 
After checkout, we loaded the car with all our newly purchased goodies (hello 25 bottles of wine and ALL of the cheese!) and drove into town to fill our tummies and take a final wander around before heading back to Sydney. In Mudgee, the food never disappoints and this included our breakfast at Alby and Esthers who serve up delicious jaffles, pastries, muffins and heavier dishes brought to life with locally sourced produce – a town trend if you haven't already picked up on this. We spent the drive home reminiscing about the days prior and the experiences we shared that had already turned into cherished, lifelong memories.