Business dream buoyed by partnership with RedBalloon
SEO. Digital marketing. Customer acquisition. These terms can strike fear into the heart of a small business owner who has a big idea and a small budget. But working with a known and trusted marketing partner is a great way to turn passion into profit, as one keen sailor has discovered.
Stuart King, or 'Captain Stu' as he is affectionately known to his customers, has always loved the water - especially when he can enjoy it from the deck of a boat. He also has a gift for entertaining and spinning a good yarn - in his own words, "I'm just a guy who loves to sail, be on the water, meet new people and tell tall stories; some even loosely based in fact".
Launching the Sydney Harbour Water Tours business was an obvious and thrilling way to combine his passion for boats, good food and good company.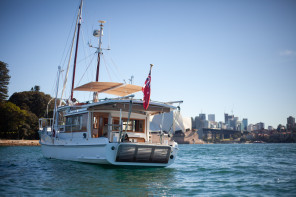 The adventure began almost a year ago when Captain Stu set out on his search for the perfect boat. Stu discovered Ellen.R (Ellie) in Manly, Brisbane - she had fallen into disrepair some years before, having been found deserted on the banks of a muddy river. By the time Stu happened upon her, she'd been lovingly restored to her former glory, and he says it was "love at first sight" when he laid eyes on her.
"I wanted to find a way to entertain people who also love boats, and give them a great time that was more than just sailing down the harbour. Another great love of mine is whisky - I've been taking people on whiskey journeys at home for years; teaching them how to drink and really appreciate the ritual. So the idea of combining all the things I love into the one experience was something that had been percolating in my head for a few years. I sold my old boat and started searching for the perfect vessel that would tie all the loose ends together."
Ellie, a 1958 wooden cruiser, is a vessel made for the intimate and elegant type of experiences Stu hosts on iconic Sydney Harbour. When asked why he chose a vintage vessel instead of a sleek modern craft that many customers would find appealing, Stu simply says it was a "no-brainer".
"I chose Ellie for her history and her elegance. She doesn't go anywhere fast - and that's exactly the point. Speed boats are all about getting somewhere fast; but I want my customers to enjoy the journey."
It's pretty obvious that Stu has passion in spades. But passion is only one part of it. He knew that without the marketing acumen and ability to find the right customers at the right time, his dream to combine the things he loves most - into a successful business - would stay exactly that; a dream.

"I had the idea, and the passion, and now the boat. But setting things up from a business point of view was really challenging. How do you get in front of people? I didn't know how to use Google AdWords or social media marketing, and the cost is extraordinary when you're competing for the same customers with bigger players," Stu says.
"I'd built a website, I had an Instagram page, but I still didn't know the first thing about digital marketing - I'm a guy with a boat and an idea, not a marketing degree.
"I dabbled here and there but never saw any return for my efforts. My attempts at marketing were not structured properly, never coordinated, executed ad hoc without a sound strategy, and with no understanding of how it all worked. It was a foreign world to me, and quite frankly, it still is.
"I knew I needed a business partner that could do all that for me and just deliver me customers, so I could focus on maintaining my boat to the highest standard, meeting people and delivering the best experience possible. And that's where the relationship with RedBalloon started."
Captain Stu says he benefits from a halo effect thanks to the brand association with RedBalloon, who have been leaders in the experiences gifting industry for 17 years. As a startup with no brand reputation or customer reviews, Stu was faced with the difficult task of getting his business ranked online and rated by customers.
Early in the piece how do you show people you're a real business that can deliver on what you've promised? Being linked to RedBalloon as a supplier builds confidence because of the brand trust they have established with their customers. In the beginning I didn't even know who my ideal customer was.
Previously the cost to find a customer would far outweigh the margin in the product. So paying a commission to a marketing partner is a better spend than me flailing around in the digital marketing world, hoping that someone might find my business - just by chance.
"I needed to be visible somewhere that customers were already going to look for gifts and experiences. For me, RedBalloon was the perfect solution.
"Being in business can be a really lonely place. And that's another reason I value the partnership with RedBalloon so highly - there's someone there to hold my hand and guide me on the business side.
"The business is still young, but only two months in we've had 20 bookings that have resulted in amazing customer reviews, which we know is a huge motivator for customers. And the RedBalloon platform allows me to capture those reviews and use them to promote my experiences.
"Also, something important to me was to work with an Australian business that supports other Australian businesses; and that's exactly what I've found in RedBalloon."